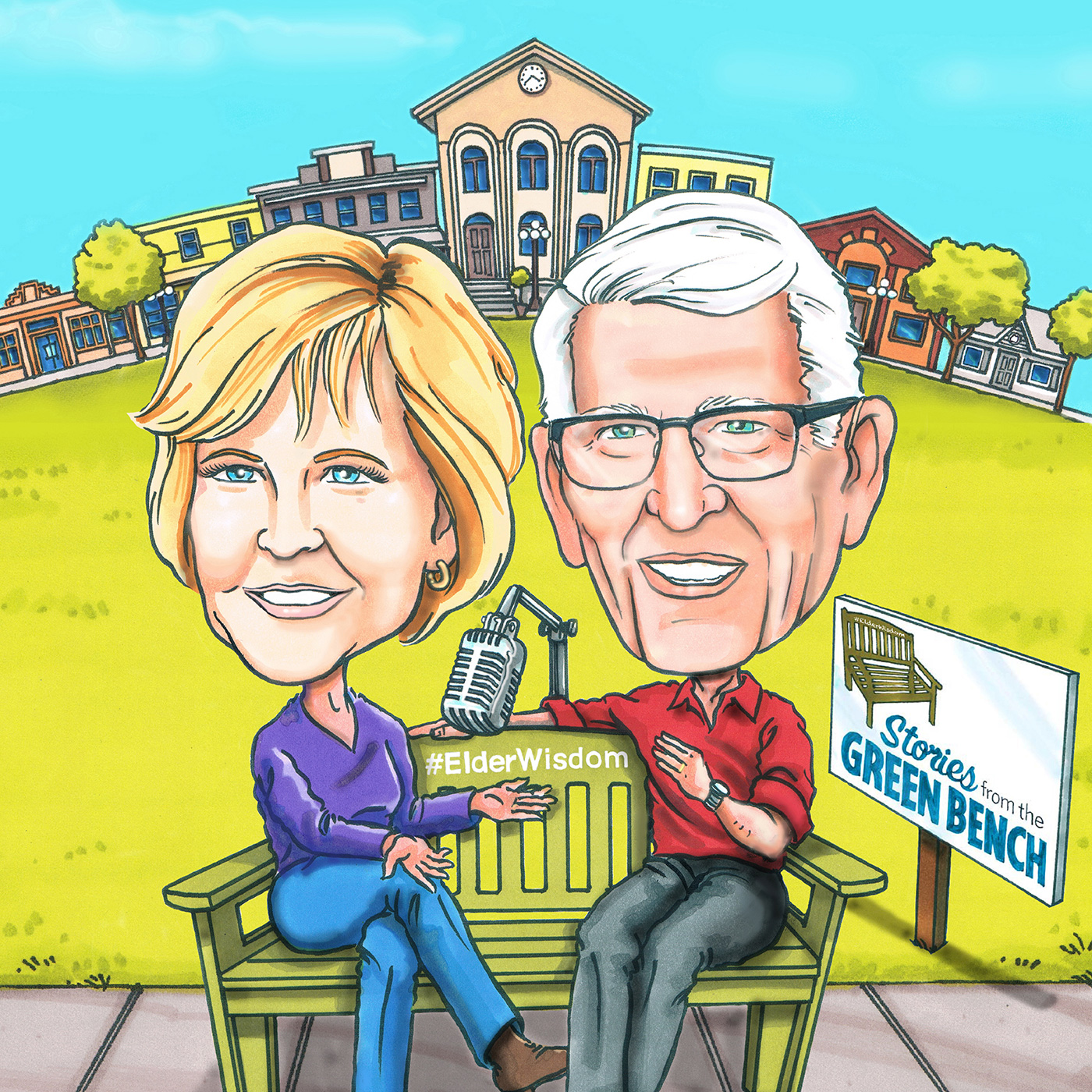 Episode #23 - Joining Erin Davis & Lloyd Hetherington on the green bench is Annie Whittle from The Village of Wentworth Heights in Hamilton. Her story includes a surprising connection with Harry Styles through her passion for Knitting, never allowing boredom to seep in, how to eat a pomegranate along with stories from her childhood.
Erin & Lloyd get you hooked to this episode with some puns as they welcome Annie to the bench. Do you have any knitting puns to share?
Knitting has been found to contribute to the quality of life
Knitting since the age of 4, now at 95 making Harry Styles sweaters for her grandchildren.  Handknitting pieces for department stories, hats, baby sets, bonnets, etc.
Read the article about Annie knitting Harry Styles' sweater in The Hamiton Spectator
"Just keep busy, whatever you do. Enjoy life." -Annie Whittle
Annie moved to Canada in 1946 from England with her husband.  Met him while reboring an engine, full of grease and overalls; a bit of a mess. 
She has the gift of making people feel special.  Annie is an unofficial ambassador welcoming new residents into The Village of Wentworth Heights.  "Enjoy things, meet people, and participate." -Annie Whittle
"I haven't played canasta since the 40s. Now I love it and we play twice a week." -Annie Whittle
"The future lies before you, like a field of fallen snow; Be careful how you tread it, for every step will show." - Doris A. Wright (shared with Annie and her siblings by her mother)
"I'd like a 36 hour day and 10 days a week." -Annie Whittle
Daily Mail Survey - What contributes to longevity?
1. Being stubborn
2. Keeping busy
3. Positive attitude
"Keep ahead of the grim reaper, keep moving, keep busy." -Annie Whittle
"The perfect metaphor for what we are doing with the green bench.  You don't want people to feel lonely, you don't want them to feel like strangers. So come and sit here." -Erin Davis
Subscribe, rate, and review our podcast on any network and share your thoughts on social media using the #ElderWisdom tag to help others find us.
The Green Bench is a symbol of elder wisdom. Physically or virtually, the bench invites us all to sit alongside a senior, share a conversation, or give and offer advice.
It challenges the stigma seniors face; the ageism still so prevalent in society. It reminds us of the wealth of wisdom our elders offer and in doing so, helps restore them to a place of reverence.
"The greatest untapped resource in Canada, if not the world, is the collective wisdom of our elders." -Ron Schlegel
This podcast is brought to you by Schlegel Villages, retirement & long-term care homes in Ontario, Canada.
#ElderWisdom | Stories from the Green Bench is produced by Memory Tree Productions
 Learn more about our host, Erin Davis, at erindavis.com
 Learn more about co-host, Lloyd Hetherington
 Learn more about #ElderWisdom at elderwisdom.ca