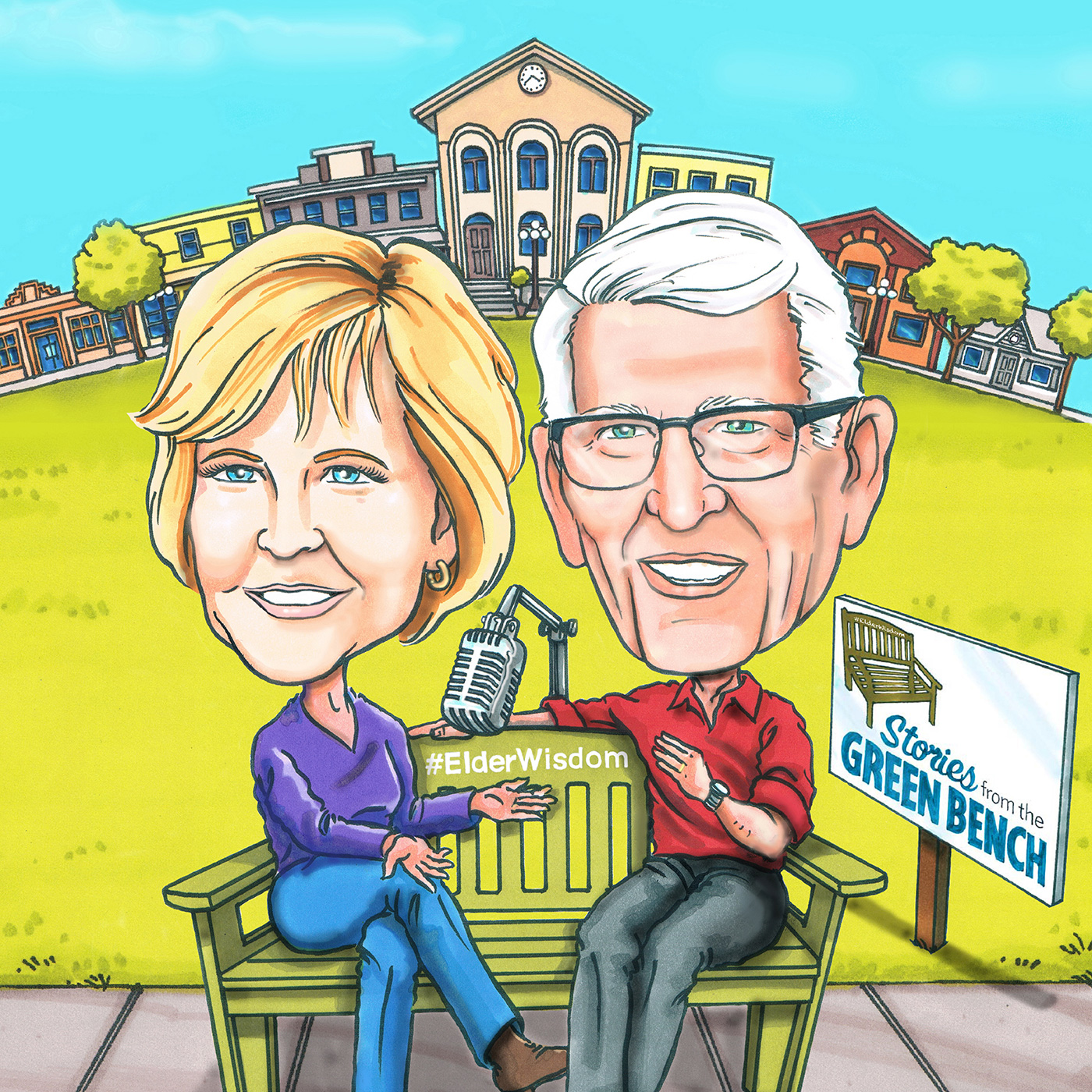 Episode #24 - Hosts Erin Davis & Lloyd Hetherington are joined on the green bench by the sparkling Betty Anne Millar from Burlington, Ontario.  Fashionable in her only pair of jeans, they chat about her fairytale career in the Shopping Mall industry, dressing to raise your spirits, continuous contributions to her community, and planning for her future including getting her name on the list for a suite at The Village of Tansley Woods Retirement, for when she is ready.
Betty Anne Never owned a pair of jeans in her life, however, when shopping in Oakville and saw a fabulous pair of jeans with sequins and lace, and a sale, she decided to purchase them. She wore them when her husband was undergoing major surgery as she wanted to be perky and be dressed perky.
"There is so much to be said to be dressing to raise your spirits." - Erin Davis
"When you dress well, you feel good." - Betty Anne Millar
Betty Anne describes her work as a fairytale career and loved every second in the shopping mall industry. She began as the secretary at the Burlington Mall when it opened in 1968, moved into the role as assistant manager in 1973, was promoted to general manager in 1975, and then to regional manager. She continued to be a mentor to many, training marketing and management prospects.
"Get the job done. Plunge in, do it with enthusiasm and conviction." -Lloyd Hetherington
"If a woman is intelligent, if she is proficient in her job, if she communicates effectively, if she conducts herself professionally, and if she has the energy and the determination to do the job well that it would be recognized by her associates." - Betty Anne Millar
Betty Anne's 4D motto: Dedicated, Determination, Diplomacy & Discipline
Continuing to contribute to her community; Bible study course, involved in her church with readings, prayers, visiting the hospital, VP/President of PROBUS Canada, social sponsor of Beta Sigma Phi and so much more including her commitment to the Joseph Brant Hospital Foundation in raising funds, a member of the board, and community chairman.
A year of writing eulogies pushed Betty Anne to attend conferences about the afterlife, meeting the most brilliant minds in the world, listening to speakers including Dr. Edward Close. 
"I have been so incredibly blessed. I have attended 13 conferences dealing with the afterlife. I have met the most brilliant minds in the world." -Betty Anne Millar
Betty focusses on planning for her life - in 2013 when The Village of Tansley Woods Retirement opened, she was sure to put her name down for when she needed a place. "The best insurance policy she could have."
"It's just such a piece-of-mind to know, that if I needed a place to go, that I already have it organized to move to The Village of Tansley Woods." -Betty Anne Millar
If you were to sit on the #ElderWisdom bench with anyone, who would you choose to join for a conversation?
Subscribe, rate, and review our podcast on any network and share your thoughts on social media using the #ElderWisdom tag to help others find us.
The Green Bench is a symbol of elder wisdom. Physically or virtually, the bench invites us all to sit alongside a senior, share a conversation, or give and offer advice.
It challenges the stigma seniors face; the ageism still so prevalent in society. It reminds us of the wealth of wisdom our elders offer and in doing so, helps restore them to a place of reverence.
"The greatest untapped resource in Canada, if not the world, is the collective wisdom of our elders." -Ron Schlegel
This podcast is brought to you by Schlegel Villages, retirement & long-term care homes in Ontario, Canada.
#ElderWisdom | Stories from the Green Bench is produced by Memory Tree Productions
 Learn more about our host, Erin Davis, at erindavis.com
 Learn more about co-host, Lloyd Hetherington
 Learn more about #ElderWisdom at elderwisdom.ca