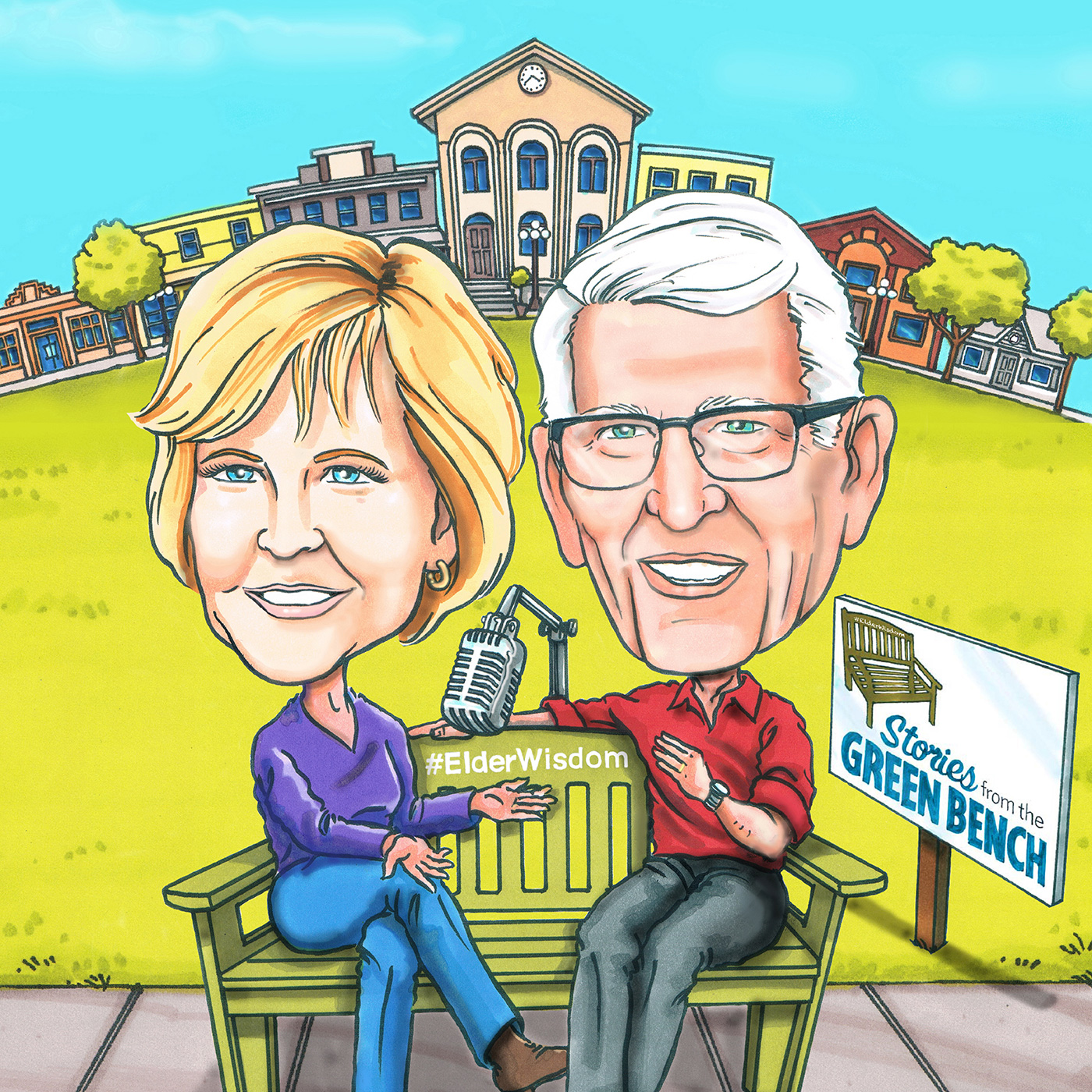 Episode #22 - Brendan Rossiter chose Canada to move to 52 years ago. He joins us from The Village of Erin Meadows long-term care in Mississauga to share a lifetime of wisdom about work, kicking habits, and being resourceful.
Born in Ireland, Brendan is a natural storyteller, a perfect fit as Erin Davis & Lloyd Hetherington welcome him to the green bench.
"Born in a great country, now living in a great country." 
Brendan had his own business as a sewing machine mechanic.  He sold, rented, and fixed high-end sewing machines.  Often supplying the movie business including Goodwill Hunting. 
"I smoked 50 cigarettes a day." Realizing that smoking was the cause of his shortness of breath, he made the decision to quit and hasn't smoked for 43 years.  Do you remember how much a pack of cigarettes was in 1978?
Brendan was the youngest of 6 boys and has one younger sister. 
He talks about what he would change in his life if he was 21 today. Sharing about going into the trades and having apprenticeships.
"You have to use your head." -Brendan Rossiter
Saving a portion of your income is a great tool to support your future. "Take a look at your finances and control them, don't let them control you." -Lloyd Hetherington
A conversation about living at Erin Meadows and Lloyd at Riverside Glen.
"I like being treated like the president rather than the resident." -Lloyd Hetherington
"There is nothing that comes near this place, the food is excellent, the staff go out of their way." -Brendan Rossiter
"If you have spare time, you must remember that there is always something that you can find to do." -Brendan Rossiter
"The thing about Ireland, we laugh at ourselves and not get upset."
"There's 50% off the Irish that don't drink, the other 50% make up for it."
Subscribe, rate, and review our podcast on any network and share your thoughts on social media using the #ElderWisdom tag to help others find us.
The Green Bench is a symbol of elder wisdom. Physically or virtually, the bench invites us all to sit alongside a senior, share a conversation, or give and offer advice.
It challenges the stigma seniors face; the ageism still so prevalent in society. It reminds us of the wealth of wisdom our elders offer and in doing so, helps restore them to a place of reverence.
"The greatest untapped resource in Canada, if not the world, is the collective wisdom of our elders." -Ron Schlegel
This podcast is brought to you by Schlegel Villages, retirement & long-term care homes in Ontario, Canada.
#ElderWisdom | Stories from the Green Bench is produced by Memory Tree Productions
 Learn more about our host, Erin Davis, at erindavis.com
 Learn more about co-host, Lloyd Hetherington
 Learn more about #ElderWisdom at elderwisdom.ca