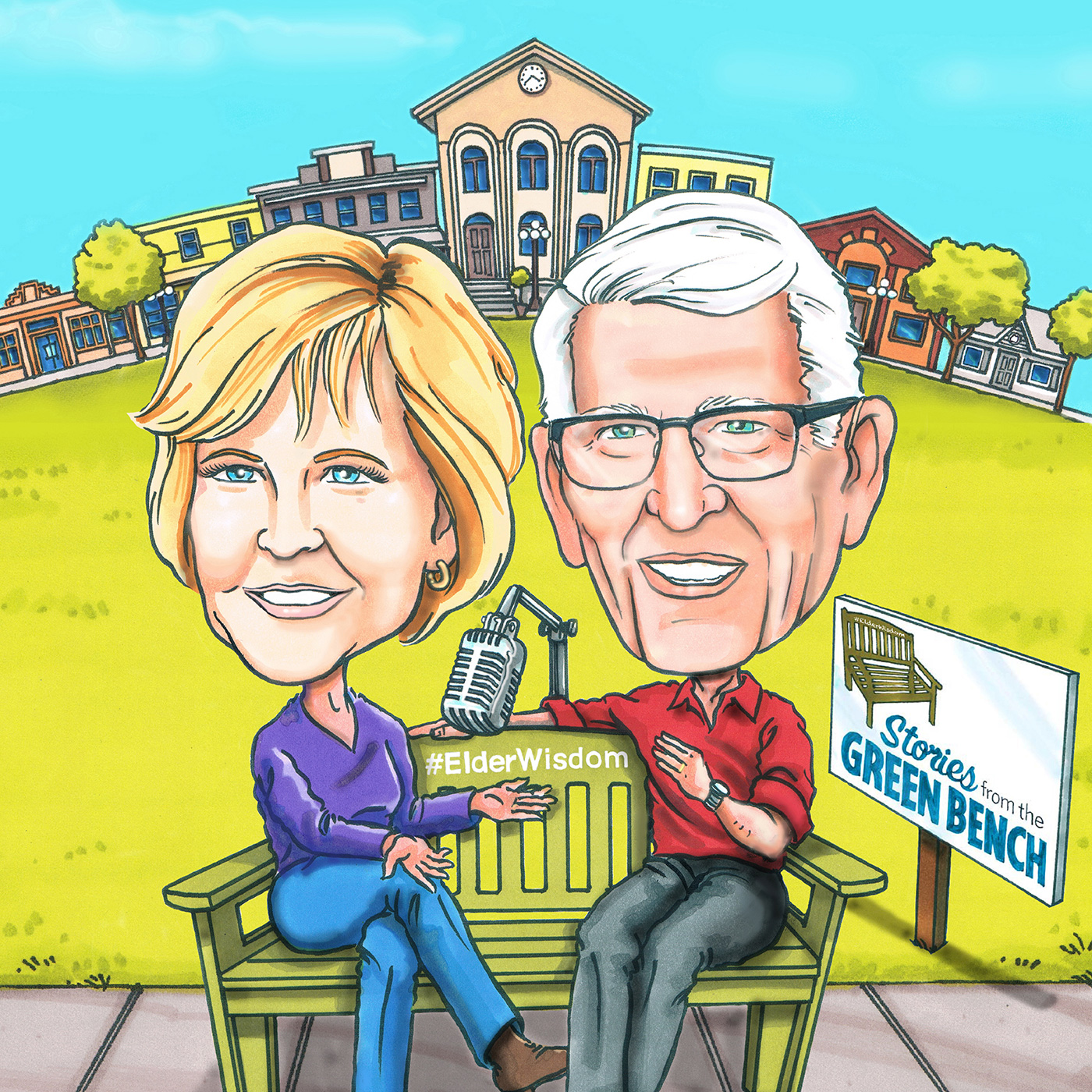 Episode #9 - The story of life in media, radio, tv, and print news and giving back through the Salvation Army and countless community organizations.  Doug Reed, a resident of the Ailsa Craig Neighbourhood located at The Village of Arbour Trails in Guelph, shares his story from the Green Bench in a conversation with host Erin Davis and co-host Lloyd Hetherington.
Learn about Doug's passion for his work with the Salvation Army including being a welcome sargeant, hosting services, setting up a soup kitchen, the Christmas Cheer program, planning and organizing a homeless shelter, and so much more. 
Interested in giving to the Salvation Army?  You can find out how here: https://salvationarmy.ca/donations/
Hear the story of what brought Doug to broadcasting.  Growing up on the farm, every lunch hour, Mr. Braud, would turn on the BBC to listen to the news coming out of the war and he was intrigued by the noise coming out of the box. Pretending as a child that he was a radio announcer, using his father's sunbeam razor on the end of a clothesline pretending it was a microphone.  Reading news and weather reports and then going with his dad to CKOX in Woodstock, and he was hooked.
Listen to more from Doug on his radio show, Doug Reed Musings, with Perry Sound Eastern Shores Online Radio. https://www.parrysoundradio.com/index.php/doug-reed-musings
Doug has always been active in the community he is living in: Town Council, volunteer firefighter, Shriner, mason, alter server, Kiwanis club.  Being involved, paying back, and doing the full circle.
A jokester: Do you have a favourite April Fools Joke?  Learn about some that Doug has been involved in during his career.
"We've got to listen to the stories.  I try to tell my son and my grandchildren the stories of my life and of ancestry." - Doug Reed
"And so ends tonights broadchasing....oops, I mean broadcasting." - Doug Reed
Subscribe, rate, and review our podcast on any network and share your thoughts on social media using the #ElderWisdom tag to help others find us.
The Green Bench is a symbol of elder wisdom. Physically or virtually, the bench invites us all to sit alongside a senior, share a conversation, or give and offer advice.
It challenges the stigma seniors face; the ageism still so prevalent in society. It reminds us of the wealth of wisdom our elders offer and in doing so, helps restore them to a place of reverence.
"The greatest untapped resource in Canada, if not the world, is the collective wisdom of our elders." -Ron Schlegel
This podcast is brought to you by Schlegel Villages, retirement & long-term care homes in Ontario, Canada.
#ElderWisdom | Stories from the Green Bench is produced by Memory Tree Productions
 Learn more about our host, Erin Davis, at erindavis.com
 Learn more about co-host, Lloyd Hetherington
 Learn more about #ElderWisdom at elderwisdom.ca