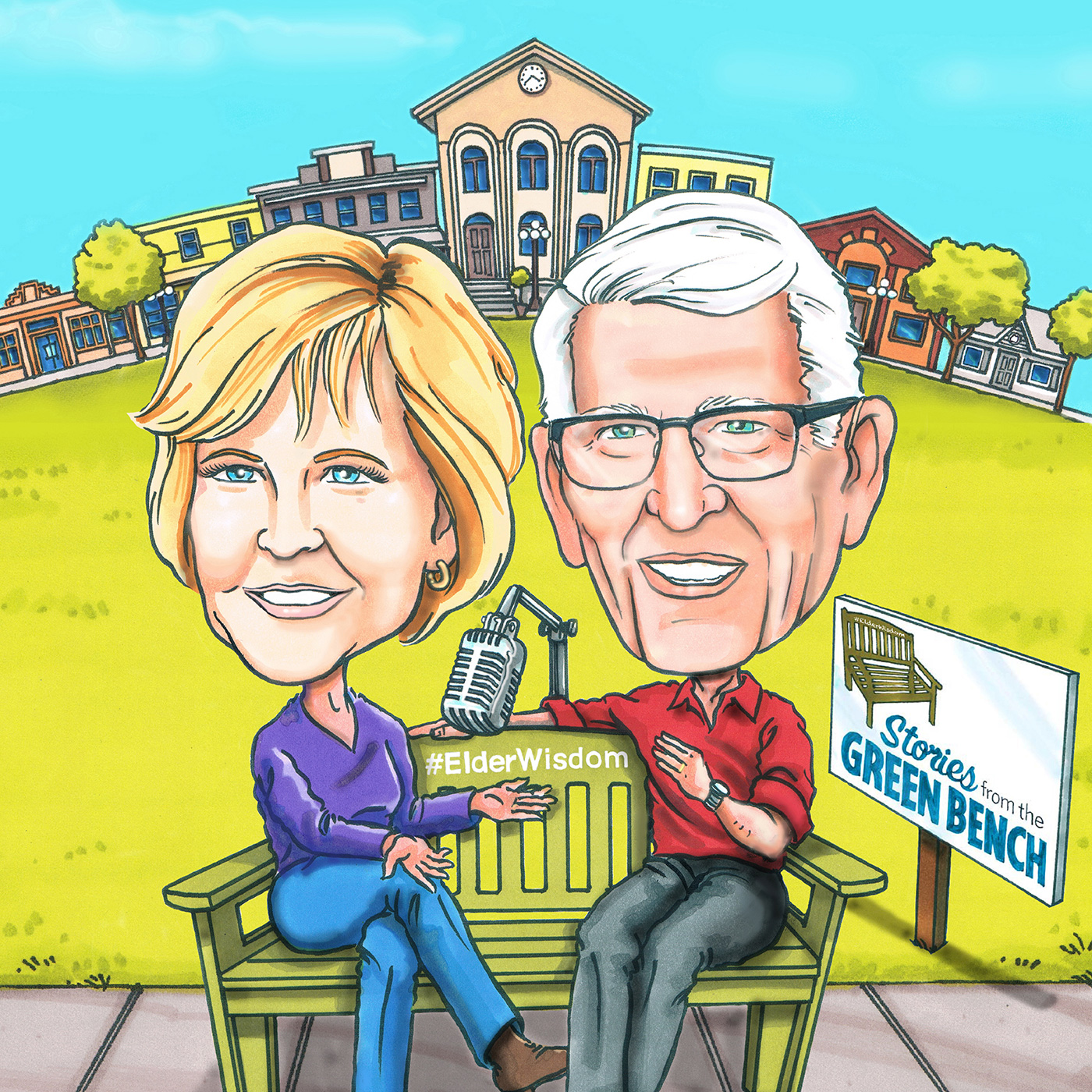 Bonus Episode - We turn our focus to Covid-19 and thank Kaye & Jeff for sharing in this important and timely discussion. The Village at St. Clair has recently garnered negative attention in the news and online media.  Hear their stories about having covid, working/living in long-term care through the pandemic and their hopes for the future.
Erin Davis & Lloyd Hetherington are grateful to be joined for a conversation on the green bench to hear these stories.
Kaye Brown, resident of the Village at St. Clair and president of the Residents' Council following in her father's footsteps as he was the mayor of Winsdor, England.  
Jeff Studman, Personal Support Worker at the Village at St. Clair joins us to share his experience in Village life and throughout this pandemic.  
Kaye, as the President of the Residents' Council, plans to do lots for her neighbours including planting a healing garden in memory of those who passed away through Covid-19.  A tree in memory of the residents, and a tree to honour the support that the Hotel Dieu Grace Healthcare team offered the Village through their challenges.
"A caring attitude is so essential in leadership." -Lloyd Hetherington
Bryce McBain along with many other Schlegel Villages' team members joining forces with The Village at St. Clair team through their challenging outbreak.
Kaye's interview with Jenny Mitchell on CFRU radio, Guelph: https://bridgingthesocialdistance.substack.com/p/123-kaye-brown-the-village-at-st
Kaye Brown story with Anne Jarvis of the Windsor Star: https://windsorstar.com/news/local-news/jarvis-i-dont-think-that-ill-ever-get-over-that
"We have a responsibility: to be sensitive and to follow the guidelines, and to look for the light at the end of the tunnel." -Lloyd Hetherington
A fine example of a community coming together in Windsor, Jeff returned to work to find Hotel Dieu Healthcare team and Agency team member working well together, he couldn't even tell them apart from the St. Clair team.  We owe them all a huge thank you!
Jeff & Kaye share their messages to those who may still be holding onto misconceptions around Covid-19 and the effects on The Village at St. Clair and senior living in general.  
What pre-covid things are you missing out on today, and what are you looking forward to doing when you are able?
"I think that we are getting closer, now that the vaccination has gone through, I'm getting that feeling of normalcy again. I'm starting to see the light at the end of the tunnel." -Jeff Studman
Kaye and Lloyd share how safe they feel living in their respective villages. "We have been so shut away for so long, we do want a barbeque." -Kaye Brown
"We're in the same boat, so let's navigate these stormy waters together." -Erin Davis
Subscribe, rate, and review our podcast on any network and share your thoughts on social media using the #ElderWisdom tag to help others find us.
The Green Bench is a symbol of elder wisdom. Physically or virtually, the bench invites us all to sit alongside a senior, share a conversation, or give and offer advice.
It challenges the stigma seniors face; the ageism still so prevalent in society. It reminds us of the wealth of wisdom our elders offer and in doing so, helps restore them to a place of reverence.
"The greatest untapped resource in Canada, if not the world, is the collective wisdom of our elders." -Ron Schlegel
This podcast is brought to you by Schlegel Villages, retirement & long-term care homes in Ontario, Canada.
#ElderWisdom | Stories from the Green Bench is produced by Memory Tree Productions
 Learn more about our host, Erin Davis, at erindavis.com
 Learn more about co-host, Lloyd Hetherington
 Learn more about #ElderWisdom at elderwisdom.ca